AFTERSCHOOL AND SUMMER MEALS SPONSOR CONFERENCE
January 29-30, 2019 in Columbia Missouri
Are you a school administrator looking for ways to ensure all of your students have consistent access to nutritious meals? Are you a school food service director who is ready to take your food service program to the next level by maximizing ways feed more kids and maximize revenue? Are you a concerned community member interested in scaleable and sustainable ways to ensure the kids in your community are not going hungry?  If you answered yes to any of these questions, then this conference will be an excellent use of your time!

EVENT DETAILS
Tuesday, January 29, 2019 10:00 AM – Wednesday, January 30, 2019 3:00 PM.
Lunch will be served on Tuesday and breakfast and lunch will be served on Wednesday.
HOTEL INFORMATION
Courtyard Marriott
3301 Lemone Industrial Blvd, Columbia, MO 65201
573.443.8000
Mention the No Kid Hungry Conference for the special rate!
SCHOLARSHIP INFORMATION
A limited number of full and partial scholarships are available to help cover the costs of travel to attend the event. Click here to complete the scholarship application.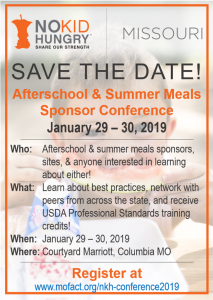 NO KID HUNGRY MISSOURI
Help us end child hunger in Missouri. Contact us today to join this powerful movement.